it's easy to forget players lost to injury or other circumstances, these eight players should have an impact in 2020-21
First of all, don't take the title the wrong away, to my knowledge none have these guys have been to substance abuse rehab. It's the other rehab. Physical rehabilitation.
Each and every season there are players lost to injuries early and given the world we currently live in, a week can feel like a month as far as the news cycle. It's sometimes easy to forget players that are out of our peripherals for a time greater than six months, nevermind an entire year.
Today, I want to look at some guys that may seemingly come out of nowhere this year that have been with their programs all along. They have simply not been on our television screens for an extended period of time due to either injury or the decision to redshirt and work on their games and/or bodies.
gUARD-wYNSTON tABBS-bOSTON COLLEGE
Remember this guy? Well, it wouldn't shock me if you didn't. Wynston Tabbs has not played a meaningful game of basketball since January 20th of 2019. Knee problems have been a chronic issue for the talented combo guard but early reports are that he is a go for the 2020-21 season.
In his 15 career games played Tabbs has averaged roughly 14/4/3 for the Eagles. Boston College has some talent this season in Jay Heath and senior forward Steffon Mitchell, if Tabbs can return to form Jim Christian will once again put a competitive squad on the floor.
Forward-Jae'Lyn Withers-Louisville
A player redshirting is pretty common when you have an incoming recruiting class of five or more. The exceptions are of course the basketball factories in Durham and Lexington that have the roster space to accomodate such classes.
Jae'lyn Withers isn't exactly a project player, the 6'8 power forward was ranked in the top 125 and held offers from everyone including Kansas, Arizona and UConn. He ended up in Louisville with a tremendously talented class but a congested front court that included Jordan Nwora, Malik Williams, Steven Enoch and Dwayne Sutton. The Irish Hulk also arrived with the recruiting class so it made sense for Withers to grab a redshirt and work on his game and get his body (215 lbs) over the season. The move also breaks up the graduations of the class.
I am not saying he is Jordan Nwora but he is known as a big (tall) forward that can shoot the ball from deep efficiently.
fORWARD-rOBBY cARMODY-nOTRE DAME
This poor guy just can't catch a break. Carmody was lost after just seven games last season to a torn ACL. He was averaging 5.4 points and 1.6 rebounds for the Fighting Irish off the bench. This is of course after he was lost for the season after just nine games in 2018-19 to a torn labrum in his shoulder.
Carmody is a hard nosed kid who really gets after it and the Irish are really going to need him this season. I think he is a better shooter than what he has shown (1-17 in his career from deep) but that has yet to be determined.
One thing is for certain, if any coach/player combination in the ACC needs a healthy season, it's Mike Brey and Robby Carmody
forward-robert braswell-syracuse
Admittedly, Braswell is a bit a of a reach. The 6'7″ forward has only played in 19 games in two seasons scoring 38 points and grabbing 18 rebounds in 103 minutes. However, his career thus far has been marred by injuries including last season when he was forced to shut it down to lower leg pain.
Doctors have yet to determine the cause of Braswell's pain to my knowledge but after last weeks conversation Nunesmagician.com writer/editor James Szuba, it appears that Braswell is going to play this season.
Given the question marks in the Syracuse frontcourt Robert could be a shot in the arm if he is indeed healthy. John Bol Ajak and Jesse Edwards are still developing leaving Marek Dolezaj and Bourama Sidibe as the main front court options along with sophomore Quincy Guerrier. The talent and athleticism is there, hopefully the health is as well.
Guard-Dereon Seabron-NC State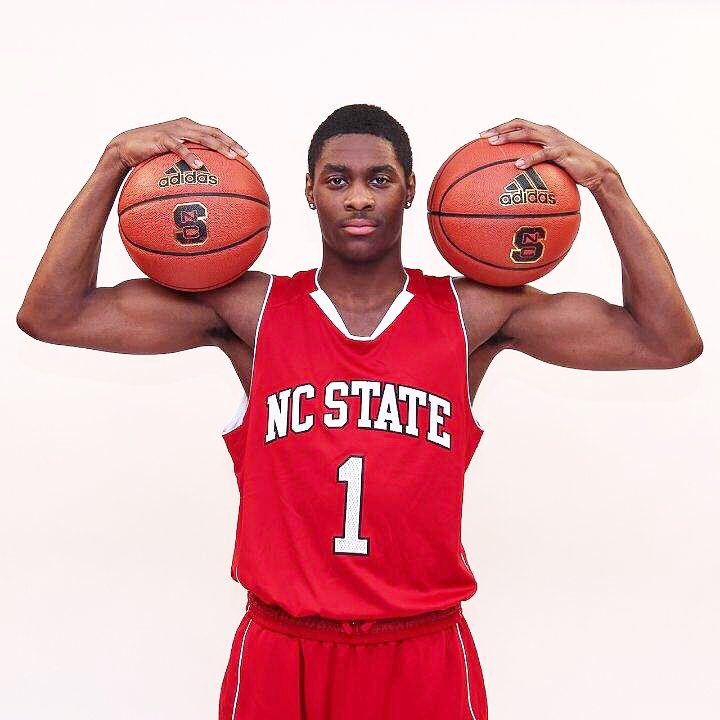 Seabron is a huge guard at 6'7 and a former four-star recruit. He missed all of the 2019-20 season due to an academic redshirt.
Seabron projects as a point guard which is key since Markell Johnson has moved on from the Pack. While he projects as a one, he is not the same players as Johnson. Seabron will look to get downhill and finish at the rim instead of drilling triples from all over the perimeter. However, like Johnson, he should flourish in Coach Keatts' uptempo style.
It will be interesting to see how Dereon fits into the rotation with the Pack. I expect Braxton Beverly to handle the ball a lot more this season but if Seabron proves effective that could change. This guy is one to keep an eye on as he is a highlight waiting to happen.
guard-Anthony harris-UNC
Anthony Harris was actually able to play five games last season before being lost to an ACL. In those five games, he was impressive averaging 6.8 points and a rebound while shooting nearly 43% from behind the arc.
Now, if you read this blog you know that I love using per 40 to look at players. Just as a fun tool or a piece of the puzzle. In Harris's five games last season he put up a 22.7 points per 40. That number is acutally better than Cole Anthony. Now, I know, the differences between the two players, the games which were played etc. But it's still impressive.
This season, Harris will probably back up freshman phenom Caleb Love or potentially play alongside him depending on the performances of RJ Davis and Leaky Black. Either way, he is going to be a key component to the success of this Tar Heel group.
guard-chase hunter-clemson
For whatever reason I am higher on Clemson than most. It has a lot to do with Aamir Simms returning and Johnny Newman sucking up minutes vacated by volume shooter Tevin Mack. However, it also has to do with a healthy Chase Hunter who missed significant time last season with a high ankle sprain.
Hunter played in only 9 games last season as a freshman averaging 5.3 points, 1.6 assists and a rebound per game. He averaged just a shade under 20 minutes per contest. His offensive rating was not good and his defensive rating was just O.K. but for whatever reason I just really like his upside.
Now, I am not telling you that he is going to come out and score 13 a game and be some kind of Gabe Devoe type player. But, I certainly think the former 4-star recruit out of Atlanta can be a key cog in Clemson making a run to the middle of the ACC and the bubble discussion.
post-Kadin Shedrick-virginia
Shedrick, a late blooming 4-star prospect out of Raleigh was a redshirt last season and will make his Virginia debut in 2020-21. Though he needed to work on his body (6'11", 214lbs) he shot up the rankings to #68 when they finally closed.
Shedrick's eligibility gives Virginia a trio of seven-footers in the front court as he joins Jay Huff and Francisco Caffaro in the pivot rotation. Caffaro showed glimpses last season but had a hard time playing defense and Huff is expected to have a huge season in 2020-21. What does this mean for Kadin? I would assume it will be a season where he is playing sparingly behind both of those mentioned above unless Caffaro continues to struggle defensively and Shedrick can prove himself on that end. Bennett has also never placed the burden of heavy minutes upon Huff so that could work in Shedrick's favor as well.
It will be interesting this season to see what comes but Kadin Shedrick is a name you should definitely keep an eye on for the future.