The Countdown comes to a close today as we look at the top five returning players to the acc in 2020-21
So this list comes to a close today and I am not sure I liked this version as opposed to releasing the players one at a time. Of course, I went to this format because I didn't really care for that either. Maybe next season I will release all 25 at the same. That is of course assuming that we aren't all struggling to breath from Coronavirus as an asteroid takes out the entire planet.
Anyways, before we get to the final five, let's take a look at numbers 25 through 6:
| | |
| --- | --- |
| 25 | Jalen Cone |
| 24 | Manny Bates |
| 23 | Isaiah Wong |
| 22 | MJ Walker |
| 21 | David Johnson |
| 20 | Dane Goodwin |
| 19 | Matthew Hurt |
| 18 | Moses Wright |
| 17 | Tyrece Radford |
| 16 | Armando Bacot |
| 15 | Jay Heath |
| 14 | Xavier Johnson |
| 13 | Buddy Boeheim |
| 12 | Prentiss Hubb |
| 11 | MIke Devoe |
| 10 | Aamir Simms |
| 9 | DJ Funderburk |
| 8 | Steffon Mitchell |
| 7 | Devon Daniels |
| 6 | Kihei Clark |
Now let's move on to the final five!
#5-jose alvarado-point guard-georgia tech
Am I bias? Of course. Does that mean that Jose isn't one of the best point guards in the ACC? Absolutely not. At this point in his career, Alvarado simply needs to remain healthy in order to solidify his place as another great point guard in Georgia Tech history. Last season in 24 games the fiery point guard averaged 14.4 points, 4 rebounds, 3.4 assists, and 2.2 steals per game. His three-point percentage normalized at 33.6% after shooting just above 28% in 2018-19.
Though he missed seven games he was still a third team All-Conference selection. He won't put up gaudy scoring numbers like Chris Lykes or provide the excitement of Caleb Love but he will LEAD a team of talented Yellow Jackets and do everything possible to win the game and do so while playing a mean air guitar.
#4-CHris lykes-point guard-miami (FL)
Lykes' counting statistics regressed a bit in 2019-20 but that was mostly due to injury and quality depth. Unlike in 2018-19, he had some help and wasn't required to be a one man wrecking crew. He ranks ahead of Alvarado because he is more efficient and exciting on the offensive end. Unfortunately, that has not been conducive to overall team success in recent seasons.
The 5'7 point guard with a lot of wiggle averaged 15.4 points and 2.4 assists for the Hurricanes last season and shot a career high 38% from behind the arc.
The difference this season for Lykes is that he is surrounded by A TON of perimeter talent to shoulder some of the load. This could be the most talented roster Coach Larranaga has had since 2012-13 and there shouldn't a reason other than injury that the 'Canes don't dance in 2021.
#3-justin champagnie-forward-pittsburgh
Look, I recognize that this could be a bit of a hot take. I even brought this up to the members of the Rockin' 25 because I thought I was buying too much stock. To pull the curtain back even further, I had Justin #1 on this list up until about two days ago. Whether that was a moment of clarity or self doubt remains to be determined.
Anyways, when I watch Champagnie play I just see a superstar. His shooting numbers from deep weren't great at just 26.2% but I expect that to drastically improve this season. Overall, the 6'6″ forward averaged 12.7 points and 7 rebounds per game as a freshman. He scored double digits in 15 of 20 ACC games including 30+ point games against Georgia Tech and Wake Forest (in the ACCT). In the first 12 ACC games of his career he averaged 14.5 points, 8.6 rebounds, and shot 33% from deep. This kid is a star.
Champagnie was one of only four freshmen to average 12 points, 7 rebounds, and a steal per game last season. Now that Trey McGowens has moved on, Justin will be the clear target for point guard Xavier Johnson to feed. Even if he doesn't get the ball, NO WORRIES! Justin averaged 2.2 offensive rebounds per game last season and six games when he recorded four or more. Again, this kid is a star. If those triples start to fall consistently, he'll make a serious name for himself.
#2-Jay huff-center-virginia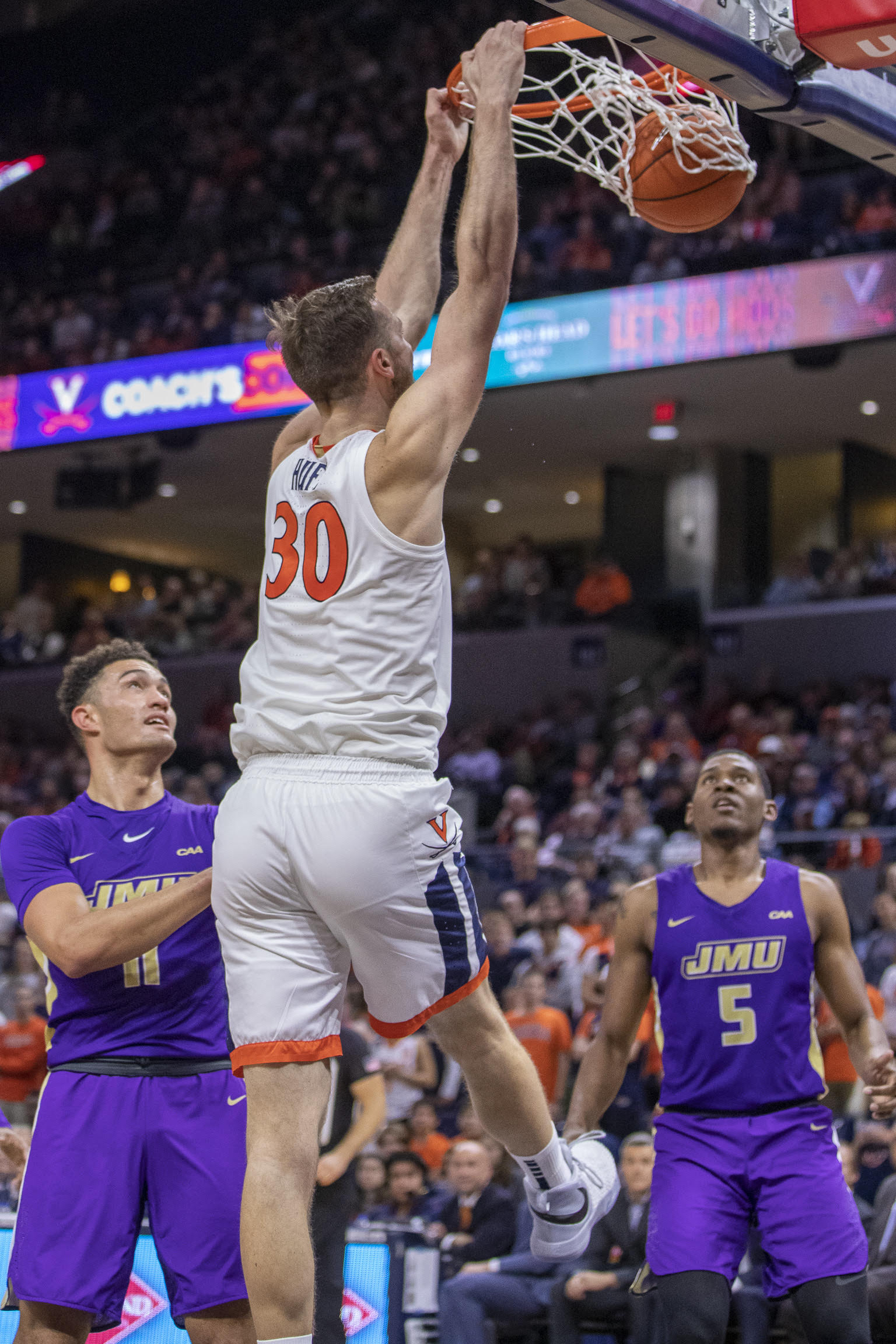 The single biggest decision in the offseason was made by Jay Huff. His return to Charlottesville solidifies Virginia as an NCAA title contender for the second time in three seasons. While the seven foot stretch center only averaged 8.5 points and 6.2 rebounds, he also plays for a program that limits opportunities. His efficiency numbers of 65.6% shooting from two and 35.8% shooting from beyond the arc paint a picture of stardom given the opportunities vacated by Mamadi Diakite. In February, Huff put up one of the most impressive stat lines of the season, logging 15 points, 10 blocks, and 9 rebounds on the road in a win over the Duke Blue Devils. The upside with this guy is limitless.
As you can see in the video, his footwork is spectacular and he can finish with both authority and touch. Early in his career, the biggest question mark was Huff's ability to play defense in Tony Bennett's system. Those concerns have been squashed as it finally seemed to click for the big man last season when he averaged 2 blocks per game and logged a defensive rating of just a shade over 82. Again, the pace at which Virginia plays heavily influences that but Huff's 82.2 rating is better than any season that defensive stalwart Isaiah Wilkins ever put up for the Wahoos.
#1-Garrison Brooks-post-north carolina
We have finally arrived. My selection for the best returning player in the ACC is North Carolina post man Garrison Brooks. The 6'9″ Brooks averaged 16.8 points and 8.5 rebounds for the Heels last season en route to being named the conferences most improved player. However, it was during the ten game stretch when the Heels had to live without freshman star Cole Anthony that we saw how fantastic Brooks really was. During that stretch, Brooks averaged 18.9 points and 10.2 rebounds per game to go along with a couple of assists.
You may be thinking those big time numbers were just a matter of circumstance. After all, someone has to score the points, right? Wrong. Two weeks after Anthony returned, Brooks went back to his dominating ways, averaging 23.4 points and 7.9 rebounds over the final eight games of the season while shooting 57.1% from the field. His 102 offensive rebounds were second to only John Mooney in the ACC last season while his field goal percentage was second to only Vernon Carey Jr. He may not be as flashy as Jay Huff or some others on the list but Garrison Brooks will simply out work and out muscle you to get what he wants. That is why he is the best returning player in the ACC for 2020-21.