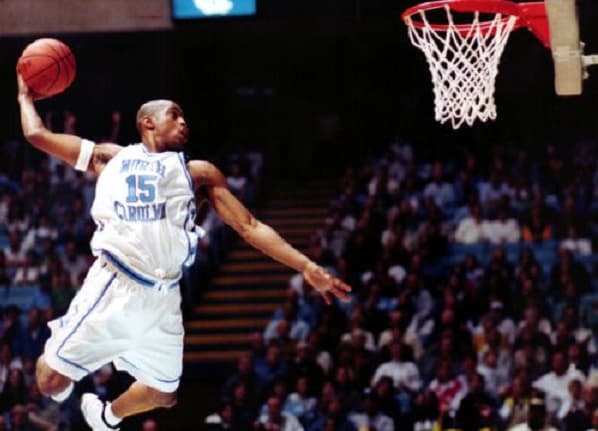 Vince Carter (AP Photo)
Very few ACC players have been able to reach the same stratosphere as Vince Carter — both literally and figuratively.
Carter never won that illusive national championship in his three seasons at North Carolina and never won an NBA title in his league-record 22 seasons. He wasn't even the best player on his own team during his years at UNC; that honor belonged to Antawn Jamison, the 1998 National Player of the Year. Yet Carter is still one of the most revered players in UNC and ACC history, due to his never-ending reel of highlight dunks, his out-of-this-world confidence on the court, and, of course, his unbelievable longevity. I mean, who doesn't get excited when they see a 43-YEAR-OLD Carter still dunking in the year 2020?
Unfortunately, father time remains undefeated. With the NBA's plan to return from the COVID-19 pandemic leaving out eight teams, including Carter's Hawks, it sadly means that Carter's playing days are over.
But for those who are feeling somber about the end of Vince Carter's career, the Tar Heels' awful season or just the state of the world in general, you're in luck. ESPN will be broadcasting a "VINSANITY" marathon on the ACC Network on Saturday, with crazy dunks, jams, slams and alley oops galore.
Here's a look at the scheduled "VINSANITY" to make your weekend a little better.
'Celebrating VINSANTIY'
Kicking off the marathon at 11:30 a.m. will be a half-hour segment called "Celebrating VINSANITY," hosted by Jordan Cornette and Dalen Cuff, with interviews from 1978 National Player of the Year Phil Ford, ESPN's Dick Vitale, and Carter's Hawks teammates and former ACC standouts John Collins and De'Andre Hunter. I can't wait to hear what Dicky V has to say about "The Elevator Man."
'VINSANITY' Marathon schedule
| Time | Game | Date |
| --- | --- | --- |
| Noon | No. 4 Wake Forest at No. 12 North Carolina | February 19, 1997 |
| 2 p.m. | No. 4 North Carolina vs. No. 7 UCLA | November 27, 1997 |
| 4 p.m. | No. 1 Duke at No. 2 North Carolina | February 5, 1998 |
| 6 p.m. | No. 2 North Carolina at Georgia Tech | February 8, 1998 |
| 8 p.m. | No. 4 North Carolina vs. No. 1 Duke | March 8, 1998 |
Noon — No. 4 Wake Forest at No. 12 North Carolina (February 19, 1997)
Speaking of "The Elevator Man," fans will be able to relive Vitale's call of Carter's famous dunk over Tim Duncan in this 1997 classic. Carter scored 21 of his career-high 26 points to lead the Tar Heels to a top-five victory.
2 p.m. — No. 4 North Carolina vs. No. 7 UCLA (November 27, 1997)
Remember how good that 1997-98 UNC team was? They absolutely waxed No. 7 UCLA in the 1997 Great Alaska Shootout, 109-68. Carter had 22 points and threw down four dunks in the blowout victory.
4 p.m. — No. 1 Duke at No. 2 North Carolina (February 5, 1998)
This is one of my favorite college basketball games of all time (yes, it was a couple weeks before my second birthday, but YouTube is a thing). That was one hell of a contest with highlights galore as the Tar Heels ran away with it a 24-4 run to end the game, but the most notable play was probably the best missed dunk of Carter's career.
6 p.m. — No. 2 North Carolina at Georgia Tech (February 8, 1998)
If you want to teach someone about hustle, look no further than Carter's game-tying dunk against Georgia Tech, just three days removed from that battle with No. 1 Duke. It was a hell of an effort by Carter to get the loose ball on that play and save the Tar Heels from a hangover defeat on the road.
8 p.m. — No. 4 North Carolina vs. No. 1 Duke (March 8, 1998)
What's better than a win over No. 1 Duke? Two wins over No. 1 Duke and an ACC Championship! Carter came off the bench in this one as part of Bill Guthridge's quirky six-man rotation and scored 16 points to lead the Tar Heels to a league title over their rivals.
Vince Carter's legacy
I couldn't just leave it at those five games. When the guy has a video dedicated to his top 50 college dunks, you know he's something special.
To show you just how damn amazing Carter was, here's one of my all-time favorite college mixtapes. And those are just his dunks.
But, as amazing a dunker as he was, there was a lot more to Carter's game than just throwing it down. He could also light it up from outside, shooting 36.8 percent from 3-point range for his career and 41.1 percent in his final season.
Not only could he do it inside and out, but also in between. With his ability to leap well beyond the range of opposing defenders, Carter's mid-range game was eerily reminiscent of fellow Tar Heel Michael Jordan. Throw all that together, it's no surprise he shot 54.7 percent from the field for his career and 59.1 percent in the 1997-98 season.
Carter may have only averaged 15.6 points per game that season, but don't forget he was the No. 2 option behind Jamison. That duo was unlike any other in program history, and that North Carolina team has to be considered one of the best ever ACC teams to not win a national championship.
To some, that may be Carter's unfortunate legacy: one of the best players to never win the big one. As a Tar Heel, he made it to consecutive Final Fours, but lost to Arizona in 1997 and Utah in 1998. As an NBA player, he led the Raptors to their first playoff series win and appeared Eastern Conference Semi-finals in 2001, and helped the Magic make it to the Eastern Conference Finals in 2010 before getting bounced by the Celtics. But to look at what he didn't accomplish is to overlook what he did, which was entertain the hell out of fans for a very, very long time. That's why he's one of the most cherished players in ACC history.