One thing that is difficult when talking big men that are freshman is unless you see them in person it is difficult to gauge them. Everyone shoots 100% in Youtube videos, so big men always look dominant. When it comes to guards you can see so much more on Youtube, such as how they push in transition, vision/passing ability, form on the jump shot and defensive hands on the perimeter. Big guys are either blocking shots or dunking in mix tapes. That's why you didn't see Deng Gak, Malik Williams or Olivier Sarr on my big men to watch list. All have good upside, but I can't provide an informed opinion on them until I actually see them play, where as I feel pretty good about commenting on a couple freshman that will appear on this list. I previewed the big boys a couple weeks ago, I think it's about time to shine a light on the spoons that stir the drinks. Here are some underrated guards in the conference that by the end of the year everyone is going to know by name.
Wabissa Bede-Virginia Tech
Bede plays like his hair is on fire, and sometimes looks like he is out of control but things typically seem to work out just fine. A scoring guard out of Cushing Academy, Bede is built like a running back at 6'1 194 and really excels on the break. I saw some of his early videos and had questions about his deep ball, but after watching some clips of him as a senior, his form has been finely tuned and I think he will develop into a really good ACC guard.
Markell Johnson-NC State
Last night I was listening to the College Hoop News podcast with Tony Patelis and guest Kevin Sweeney of CBB Central, Kevin picked NC State to finish 9th in the conference. Personally, I have them at 12, but that was before Thompson left Syracuse, so I actually have them at 11 now. If the Wolfpack are to get into the top 10 of the ACC this year, it will be because Johnson has a great year. I watched this young man play against Virginia and Notre Dame towards the end of last season and he was great in both games. Unable to show case his ability in the ACC tournament due to injury, expect him to really explode onto the scene this year. He is going to have to shoot it better from both the line, and from deep, but he is an assassin in the open court. If the shooting touch comes around, State is set at the point guard spot for the next three years.
CJ Walker-FSU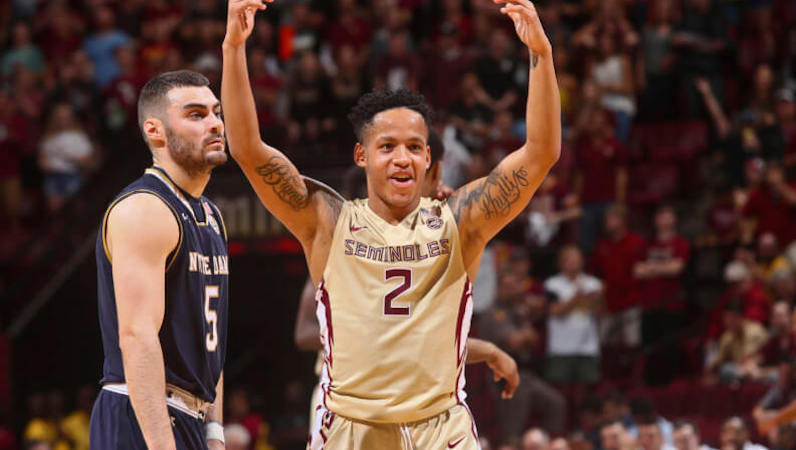 Its funny, some kids you watch play a few times, and they impress you, then you look at their statistics, and their line is not what you anticipate. That is the case with Walker. As a freshman, CJ averaged 4.9 points, 1.4 rips and 1.3 helpers in 12.5 minutes per game. He struggled a bit from the field, but this is the ACC, and those numbers will come up. If you dig a little deeper and look at his usage rate, it's right on par with Joel Berry and Matt Farrell at 22%. When you compare his offensive rating, which is how many points a team scores per 100 possessions the player is on the court, to Farrell, he also measures up. Farrell is at 110, while Walker is at 96. Kasey Hill of Florida  was at 87 last year for another point of reference. Walker's defensive rating is actually better than Farrell by a few points as well. I only bring these numbers up because they support my argument, but I think Walker can, and will, handle 20-25 minutes a game for the 'Noles this year, and they will be just fine.
Shelton Mitchell-Clemson
A transfer from Vanderbilt, Mitchell quietly had a really nice season for the Tigers last year. The RS sophomore averaged 11 points, 2.3 rebounds and 3.6 assists per game while sharing time with Avry Holmes. Holmes is gone now, and Mitchell is the only real point guard on the roster, and he should receive a ton of minutes and opportunity. A 45% three point shooter last year, Mitchell will get plenty of attempts  given the loss of the aforementioned Holmes as well as all conference player Jaron Blossomgame. I had back court mate Marcquise Reed in my top 25 players of the ACC, but it wouldn't shock me if Mitchell led this team in scoring.
Chris Lykes-Miami
Lykes, a freshman, could very well be the deciding factor on who wins the ACC this year, no pressure. The sooner he can take over point guard duties for Ja'Quan Newton, the better off Miami will be. He is a little under sized at 5'8, but Coach Larranaga has done well with small point guards in the past (Larkin, Lecomfe, Rodriguez). Lykes may be a bit of a liability on defense, but Miami will be deadly on the break with Bruce Brown, Lonnie Walker and Newton getting out in the lanes. He is quick as a hiccup, and only needs a little daylight to either get in the lane or get the shot up. Considering the competition he played in his prep days, I expect the transition to be fairly smooth for Chris.
Here is his mixtape, I'll let you draw your own conclusion.